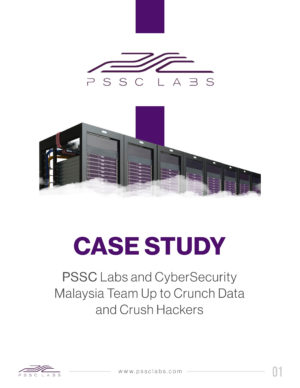 Learn how PSSC Labs engineers custom-built a CloudOOP Rax Cluster
server solution to meet CSM's requirements of a powerful ready-to-deploy
system that would not be an energy drain. 
"The PSSC Labs System will act as the platform for data processing and analytics as well as visualization" said CyberSecurity Malaysia's Chief Technology Officer, Dr. Solahuddin Shamsuddin. "The visualization will be fed to stakeholders with dashboard access."
For technology powered visionaries with a passion for challenging the status quo, PSSC Labs is the answer for hand-crafted HPC and Big Data computing solutions that deliver relentless performance with the absolute lowest total cost of ownership.  
 We are true innovators offering high performance computing solutions to solve the world's most demanding problems. For 25+ years, organizations of all sizes and from a variety of sectors rely on PSSC Labs' computing systems. We are proud to support many departments within the United States government, Fortune 500 companies, as well as small and medium-sized businesses.  
All products are designed and built at the company's headquarters in Lake Forest, California.